Sennheiser isn't the most popular brand name on the market today. If you're a movie junkie, there's a good chance you've heard of Sennheiser before. There's a lot of pros when it comes to wireless headphones. It allows you to move around the house and especially when it comes to watching your favorite TV show, being able to have it on while you're working around the house, cooking dinner, or anything of the sort, without distracting anyone else in the home, is fantastic. 
That's exactly what Sennheiser designed with the Sennheiser PXC 550 headphones. We've talked about other Sennheiser headphones on our website below including a full comprehensive review of the Sennheiser wireless RS 175 headphones which you can check out here.
A lot of people today search for Sennheiser wireless headphones, but today we're going to talk about the Sennheiser wireless PXC 550 headphones, the perfect audio listening companion.
Pros and Cons
When it comes to doing a complete review on these Sennheiser PXC 550 ii headphones, we think it's important to start off with the pros and cons before jumping right into the review.
| Pros | Cons |
| --- | --- |
| Bluetooth Connection is Great | Sound Quality Differentiates Between Connections |
| Sound Quality Improved | Active Noise Reduction Needs to Improve |
| Very Comfortable | |
| Great High-Quality Finishes | |
| Mobile Application to Access Other Features | |
Review in More Detail
We tried out the Sennheiser PXC 550 ii in different settings and situations to truly test out if it holds up to the headphone test. Here are our findings below…
Sound Quality
Overall, we found the sound quality for the Sennheiser PXC 550 ii headphones to be pretty good. The Sennheiser wireless headphones have been designed with Bluetooth capabilities in mind which means that it's practical for most if not all, Bluetooth devices.
When it comes to the sound quality of the Sennheiser PXC 550 ii headphones, the overall sound produced is definitely a quality that we're happy with with the emphasis of the bass and mids. Regardless of the musical genre, you opt to listen to, you will notice that the headphones seamlessly emphasize just what needs to be emphasized with the highs accentuated and the voices being crystal clear.
There is remarkable clarity with these Sennheiser wireless headphones and something that you will notice as soon as you put the pair of Sennheiser wireless headset on. We also didn't notice any disturbances with the cables and the active noise reduction did make the sound seem a bit more powerful, but we could definitely appreciate some improvements in the noise reduction which will talk more about below.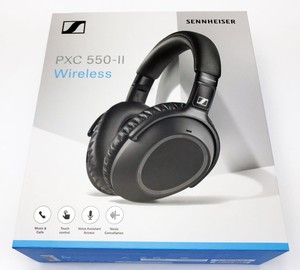 Noise Cancelling
When it comes to the noise canceling or noise reduction capabilities of the Sennheiser PXC 550 headphones, Sennheiser manufactures made it so there were 3 different levels of adjustments available. The first level is passive reduction, the second level is active reduction and the third level is the maximum level. You can make this selection with switching between the 0-100% noise reduction indicator.
As with any headphones, once you get used to the headphones you can truly master their functionality and manage the device properly. This is no different when it comes to the noise-canceling properties and you will find yourself being able to quickly transition the noise reduction capabilities to match your environment within an instant. NoiseGard is a feature that helps to make this process that much easier.
That being said, even with the active noise reduction capabilities, we have seen that the Sennheiser PXC 550 headphones are still not at the level of the Bose QuietComfort 35 II headphones, which we have a full comprehensive review for that you can check out here.
The performance of the noise reduction is great, but there are better options on the market. The Bose headphones really create almost a bubble-like effect that we don't necessarily find with the Sennheiser headphones. That being said, if you're in noisy places you should still have a fairly clear time being able to hear your audio without any issues or interruptions and can listen to your audio with peace and quiet.
The Build
Regarding the build of the Sennheiser PXC 550 headphones, we noticed that there were quite a few different materials used in this design compared to other previous, Sennheiser headphones. With this style of headphone, you will find less noble than previous models and featuring quite a bit more plastic than previous models have had in the past. Therefore, we have found that there is a bit of elegance lost with the creation of these headphones and also with the durability of the headphones decreasing as well. That being said, those types of materials being used do make the headphones a lot lighter build which makes them a bit more comfortable when it comes to wearing them for long periods of time.
The headband of the headset is constructed using a metal rod which gives the headphones a nice overall structure and add a bit of a durable, yet flexible detailing. There's plushy memory foam added which adds a bit of padding and extra comfort to the design as well. Lastly, faux leather finishes off the look and adds just a touch of elegance to the headset as well.
You don't have to worry about the headphones fitting you with the extendable rod that allows you to shape the headset to practically any size head or shape. That being said, you should use caution when adjusting the hoop so you make sure you don't break it.
For storage purposes, you can fold the headphones practically flat and once folded, they can easily be stored and transported in the carrying case. With that into consideration, we do find that the case isn't the highest quality so you're not guaranteed that your headphones will be automatically protected when inside the headphones.
Design
If you compare this Sennheiser wireless to other Sennheiser wireless headphones you may be underwhelmed with the design aspects. When it comes to this particular Sennheiser PXC 550 headphones model, we noticed that it's much lighter than the predecessor and even more compact than a lot of competitors on the market today. The shape and the appearance of the headphones make it small enough to truly slip into any bag and bring it with you wherever you go. Competitors like Bose and Sony have not achieved something like this yet.
The design of the ear cups for the Sennheiser PXC 550 headphones are designed in a unique circum-aural model which allows your ears to be inclosed entirely and are designed for optimal comfort and flexibility. The shape of the ear cups makes the Sennheiser PXC headphones a very unique headphone that is above anything else on the market today. It protects your ears from the cold but also provides airflow at the same time.
Overall, the style of the Sennheiser PXC 550 headset is pretty good. It features dark colors with a few silver touches here and there. If you're looking for more colors than this, the Sennheiser PXC 550 headphones may not be your go-to set of headphones but with the design and the elements that Sennheiser used in the design of the headphones, it was intentional to appeal to a wide variety of people of all ages.
Features
The features of the Sennheiser Bluetooth headphones, regardless if it's the Sennheiser PXC 550 headphones or Sennheiser wireless headphones, are some of the most important things to take into consideration when purchasing a headset.
We noticed that overall, the PXC 550 is pretty easy to use and is one of the more user-friendly options on the market today. The PXC headphones feature a variety of functions on the right ear cup which allow you to completely manage the Sennheiser wireless headset. On the outside of the headphones is where you can find the controls for volume, next song or to go back, pause, play, and also activate your microphone. You can hear everything in the surrounding environment without even having to take your headphones off with the different settings and functions that this Sennheiser wireless headset offers.
On the right side, there's also a button to manage the active noise reduction. As we mentioned earlier, there are three different levels available so if you're looking to control the setting this is where you would do it. There's also a micro-USB port located on the outside of the. headphones which is used to charge the battery and then also a port that will allow you to plug your headphone into a device to listen if it's not Bluetooth capable.
One area that was extremely odd to us is the fact that there's no on or off button. Basically how it works is that when the ear cups are folded in, the headset is off. When you unfold the headphones then the headset will turn on. So there's no need to worry about if you turned off your headphone battery or it draining while you're not using it. If it's folded, you're good.
Lastly, the addition of Smart Control, a Sennheiser application that's available for iPhone and Android users allows you to have access to a wide variety of different, additional features as well.
Comfort
When looking for Sennheiser wireless headphones, you definitely want to find something that is comfortable and great for long-lasting wear. In terms of comfort, the Sennheiser PXC 550 headphones have padding on the ears and a soft interior that makes it so you really don't feel the weight of the headphones, even after long wear. We didn't personally get any pressure points or headaches after wearing the headphones for a long period of time which is great. Also it should be noted that the headphone is adjustable, but once you fit it to your head, you can shake or move your head all you want and the headphones will stay put. This is especially great if you're into running or want to use the headphones while working out.
The headphones offer 30 hours of battery life when it's full which makes it great for long-haul flights or traveling. Without the need to constantly charge it, you can conveniently keep your headphones in your bag and never forget them when it comes to your work commute. The 30 hours is also if you're using the wired mode with active noise reduction activated. If you want to use the Bluetooth connection for the Sennheiser wireless, than you will get a comparable 20 hours of battery life that most wireless headphones have at the moment.
Comparing to Other Sennheiser Headphones
Movie headphones are more unique than wireless Bluetooth headsets that are more popular today. We thought the best option to compare these Sennheiser PXC 550 headphones to is the Sennheiser Momentum Wireless headphones, similar headsets that it would be great to understand the differences and similarities of the two.
Both headphones have kept the same shape ear cups which offers an optimal comfort and we talked about a lot earlier in this review. The ear cups are a specific design to Sennheiser and they have truly mastered the art of ear cups, in our opinion. This type of design allows for a much more isolated experience and almost does create a little mini bubble and for music lovers, make the bass levels and the intensity levels that much more intense.
Both cables for these headphones are completely detachable and feature a "L" design which allows the cable to not bend when it's plugged in. This keeps your cable protected but it's also great when it comes to traveling with your device.
One major pro of the Sennheiser PXC 550 headphones over the Momentum wireless headphones is the sound isolation and passive noise reduction capabilities that the Momentum headphones doesn't have. This allows you to truly capture amazing sound quality, even on a busy work commute.
Another difference between the two headphones is the battery and the Sennheiser PXC 550 headphones have a battery level indicator that helps to notify you when it's time to charge your headphones. Both headphones are wireless and compatible with just about any MP3 device.
Lastly, when looking at the two headphones and their Bluetooth pairing capabilities, they use NFC to communicate with other Bluetooth devices. Once you connect the devices via Bluetooth nearby, you don't need to enter any codes or additional information ever again.
Overall, the two devices are pretty similar and offer a similar style of listening experience.
Overall Thoughts
The Sennheiser PXC 550 headphones are a comfortable Sennheiser wireless headset that is better than most other competitors on the market today. They feature a wide variety of different features and a comfortable design that not only looks great but functions just as needed and what headphone users would expect from headphones with this kind of pricetag.
Overall, the Sennheiser PXC 550 headphones provide great noise reduction capabilities, we love the addition fo the mobile app, and with the numerous touch control system, it has a great sound performance and something that any headphone user would be pretty happy with. With all that being said, we still don't think it's beat the Bose QuietComfort 35 II headphones quite yet, but it's definitely getting closer in the competition in terms of ranking in our opinion.
As mentioned, if you want to learn more about the Bose QuietComfort 35 II headphones, we have a full, comprehensive review discussing the headphone's features, design, and comfort levels in depth similar to this post. You can check out that full review here.
Check Price On Amazon